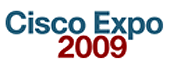 Cisco non ha ancora reso noto quando avrà luogo l'edizione 2009 del Cisco Expo, evento organizzato da Cisco in collaborazione con numerosi partner del mercato IT. Le poche informazioni a riguardo da parte di Cisco fanno anche pensare che quest'anno non ci sarà l'evento che, nelle edizioni passate, ha dato molte soddisfazioni (anche in termini numeri).
Al Cisco Expo 2008, infatti, sono stati circa 2500 i partecipanti nelle due giornate di incontri e sessioni che sono risultate interessanti anche per i numerosi partner e sponsor che hanno aderito e appoggiato l'evento.
Per l'edizione 2008, svoltasi il 26 e il 27 Febbraio 2008, Cisco aveva spedito, via mail, ben due Save The Date: il primo il 21 Novembre e l'altro il 19 Dicembre, ovviamente 2007. In seguito, il 21 Gennaio hanno aperto le iscrizioni e il 15 Febbraio hanno mandato degli inviti.
A dire il vero, una traccia di quando possa essere il Cisco Expo 2009 in Italia c'è e si trova proprio sul sito di Cisco. In , infatti, viene esplicitamente scritto che l'evento sarà ad Aprile (purtroppo il link non è più funzionante).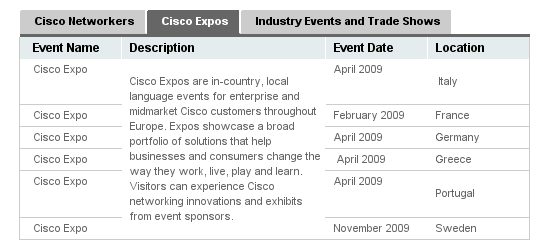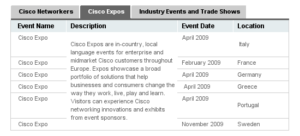 Resta il fatto, comunque, che nessun Save The Date o comunicazione ufficiale da parte di Cisco è pervenuta. Almeno per il momento. A seguire ulteriori posts nel caso di novità.