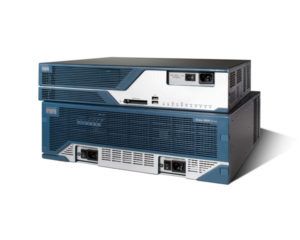 Cisco Systems amplia la famiglia di Integrated Services Router con nuovi modelli e servizi
L'evoluzione di questi innovativi router con servizi Wireless sicuri annunciati dal leader tecnologico offrono maggiore mobilità, sicurezza e flessibilità ai service provider, alle Piccole Medie Imprese ed alle grandi aziende.
Cisco Systems ha recentemente annunciato la disponibilità dei nuovi Integrated Services Router (ISR) con funzionalità Wireless integrata, in grado di offrire servizi simultanei ad alta disponibilità per l'accesso a banda larga e ideali per la Piccola e Media Impresa, le filiali di grandi aziende e i telelavoratori. Cisco Systems offrirà inoltre nuovi servizi WLAN (Wireless Local Area Network), sicurezza avanzata e gestione completa per l'intera gamma di router ISR. Tali ampliamenti, offrono ai clienti maggiore flessibilità e mobilità e semplificano l'implementazione, la protezione e la gestione della rete.
"L'introduzione degli ISR, conferma l'impegno di Cisco Systems nel fornire ai clienti una gamma completa di router progettata per erogare servizi dati, voce e video simultanei ad elevate prestazioni e in piena sicurezza", ha commentato Joel Conover di Current Analysis. "Grazie a queste nuove piattaforme per piccoli uffici e ai nuovi servizi inclusi quelli wireless, Cisco Systems offre ad una gamma sempre più ampia di clienti, la flessibilità di scegliere tra molteplici opzioni, beneficiando appieno di una rete altamente sicura e affidabile".
I nuovi Integrated Services Routers di Cisco Systems per i piccoli uffici
I modelli ISR Cisco 1800 e Cisco 800 distribuiscono intelligentemente servizi simultanei altamente sicuri, incluse funzionalità wireless LAN IEEE 802.11, fornendo ai piccoli uffici un singolo sistema affidabile. Questi nuovi router ad elevate prestazioni sono caratterizzati da connessioni a banda larga e offrono ai piccoli uffici importanti funzioni come ad esempio sicurezza avanzata, gestione remota e collegamenti WAN di backup.
I nuovi ISR fanno parte della soluzione Cisco SMB-Class e Enterprise Business Ready. I partner di canale della Società avranno l'opportunità di offrire nuove soluzioni e servizi nativamente integrati nella rete e ideali per soddisfare le esigenze attuali e future dei clienti. I service provider avranno a disposizione la piattaforma ideale per i servizi gestiti offerti alle Piccole e Medie Imprese e alle filiali con un'ampia gamma di opzioni di infrastruttura e servizi.
Integrazione wireless nelle piattaforme
L'intera linea Cisco ISR oggi supporta servizi wireless LAN 802.11 integrati o modulari e in totale sicurezza. Sono disponibili anche nuovi ISR a configurazione fissa. Le schede Wireless sono disponibili per gli ISR della Serie Cisco 1841, Cisco 2800 e Cisco 3800. La funzionalità wireless integrata e ad elevate prestazioni ottimizza le attività aziendali, il tutto grazie ad un dispositivo semplice da installare e di piccole dimensioni.
"I nuovi ISR wireless di Cisco Systems offrono alla nostra azienda la massima mobilità e flessibilità", ha commentato Dan Campbell, Chief Information Officer di Watt Commercial, uno dei più importanti sviluppatori degli Stai Uniti dell'ovest. "Grazie alla funzionalità integrata di sicurezza per la copertura wireless associata ai servizi di gestione remota, questi nuovi router sono in grado di soddisfare appieno le esigenze, in continuo mutamento, dei nostri impiegati mobile. Questo dispositivo particolarmente semplice da implementare, elimina la necessità di modificare o rimuovere l'infrastruttura di rete cablata ogni qualvolta viene organizzato o distaccato uno dei nostri 30 uffici remoti. Allo stesso tempo, la possibilità di aggiungere senza particolare sforzo un nuovo Cisco ISR alla rete consente di supportare al meglio l'arrivo non pianificato di nuovo personale".
Salvaguardare la rete dall'interno
I router Cisco ISR sono parte integrante della strategia Cisco Self-Defending Network, offrendo al mercato la più completa gamma di servizi integrati per la sicurezza della rete. Gli ISR sono in grado di fornire difesa completa contro le minacce con notevoli avanzamenti nella sicurezza delle applicazioni, protezione anti-x, così come contenimento e controllo delle minace in rete. Tutto ciò offre ai clienti una singola piattaforma affidabile per implementare rapidamente applicazioni aziendali di rete altamente sicure.
I nuovi ISR Cisco 1800 and Cisco 800 a configurazione fissa vengono pre configurati con cifratura VPN e accelerazione hardware integrata, supportando la cifratura IPSec AES e 3DES. La sicurezza offerta da Cisco IOS® consente di proteggere l'intera gamma di router Cisco offrendo sicurezza pervasiva lungo l'intera rete, incluse funzionalità di firewalling complete, prevenzione dalle intrusioni, funzionalità Network Admission Control (NAC) e filtraggio URL, supporto di VPN MPLS o VPN che utilizzano cifratura ad elevata velocità IPSec AES e 3DES. La versione 2.1 del Cisco SDM (Security Device Manager) supporta tutti i modelli di router Cisco, dalla nuova serie Cisco 800 ai dispositivi Cisco 7301, offrendo ai clienti un'interfaccia web semplice da utilizzare per proteggere le impostazioni e garantire una gestione sicura delle funzionalità dei router, incluse quelle WAN (wide area networking), LAN (local area networking), di sicurezza e WLAN.
Servizi avanzati per la gestione dei dati e della banda larga
Cisco Systems ha inoltre annunciato ulteriori servizi in grado di ampliare la gestione dei dati e dei contenuti sugli ISR. I nuovi moduli EtherSwitch da 16, 24 e 48 porte includono funzionalità Power over Ethernet (PoE) per la serie di ISR Cisco 2800 e 3800, offrendo elevate capacità. Le schede Cisco Serial and Asynchronous High-Speed WAN Interface Cards offrono connessioni flessibili ai protocolli legacy o per l'aggregazione WAN.
Inoltre, sono disponibili funzioni NAM (Network Analysis Module) ampliate, valutazione della larghezza di banda per la QoS (quality of service) definita dall'utente e aggiornamenti per l'ACNS 5.3 (Application & Content Networking System) che consentono di gestire il traffico e ottimizzare la larghezza di banda WAN. La gestione del dispositivo e il caching ampliato consentono di ampliare la funzionalità, rendere ancora più rapida l'implementazione delle applicazioni e ridurre i costi e la complessità operativa in modo che i clienti possano ottenere un rapido ritorno degli investimenti.
Supporto clienti
Il supporto clienti offerto da Cisco Sysems per l'intera famiglia di ISR include Cisco SMB Support Assistant e Cisco SMARTnet®, progettati rispettivamente per le Piccole Medie Imprese e le grandi aziende. Cisco SMB Support Assistant offre chiare informazioni e strumenti che consentono di semplificare l'impostazione, la configurazione, il troubleshooting e le richieste di apertura dei servizi. Questo servizio economico include sostituzione hardware, mantenimento base del sistema operativo, un portale web e un client semplici da utilizzare, nonchè accesso 8×5 al supporto tecnico di Cisco Systems. Cisco SMARTnet® e SMARTnet Onsite offrono ai clienti enterprise supporto 24×7 con il più elevato livello di assistenza tecnica, strumenti e informazioni, aggiornamenti software per il sistema operativo e sostituzione hardware avanzata.
La famiglia Cisco Integrated Services Router
La pluripremiata famiglia di Cisco Integrated Services Router è composta dai router della serie Cisco 800, 1800, 2800 e 3800 e rappresenta la "punta di diamante" dell'offerta Cisco. Nel corso dei primi due trimestri dalla data di annuncio, Cisco Systems ha consegnato oltre 100.000 router. Con un'ampia gamma di servizi integrati nei router, come la sicurezza, la voce e il wireless, i clienti possono scegliere la giusta piattaforma e servizio in grado di soddisfare appieno le loro esigenze nonché la semplicità di gestione e implementazione, il tutto in un dispositivo di piccole dimensioni in grado di fornire il massimo livello di prestazioni.