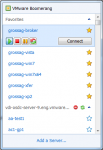 (…un modo per capire il perchè delle cose)
Un po' di tempo fa è uscito VMware Boomerang che in parole povere è un client veramente molto semplice per poter gestire più host ESX o dei Virtual Center. Moltissimi utenti (e anche io)  si sono quindi buttati nel provarlo con host ESXi, anche se tutti voi penserete che riguardi ESX e non viene detto ESXi, visto il nome.
La cosa interessante è che il client non era stato testato su un host ESXi e l'autenticazione all'host non riusciva ad essere portata al termine restituendo un bel "Login failed"…
Scopro che veniva dato per scontato il fatto che funzionasse anche con questo tipo di host per il semplice motivo che il tutto veniva basato sulle API VIX che sono valide per ESX/ESXi. Ma effettivamente c'era qualcosa che non andava proprio con queste ultime in relazione con diversi prodotti server.
Come secondo step si è cercato di capire ove fossero prodotti i logs arrivando quindi alla directory  %TEMP%/vmware-username ove ho trovato un file .txt e uno.log e li si è avuta una bellissima sorpresa. Dal file con estensione .txt si apprendeva:
[1F00] State::AddServer: Adding ESX/VC server failed with error 32 (This operation is not supported with the current license).
mentre dal file .log:
app-8916| Vix: [8916 vixVIMProxy.c:1023]: Error VIX_E_LICENSE in VixVIMHostOnLicenseManagerLoaded(): host has basic license and does not support remote management
La causa mi sembra oramai chiara e ahimè non penso che mai il boomerang tornerà indietro, ma la cosa che ho apprezzato è stata la collaborazione tra la comunità e l'ingegnere che ha sviluppato l'artefatto che ci promette almeno di spiegare (non so ancora dove) questa tipologia di casistica per l'utilizzo dello strumento.
Saluti,
Giovanni Uccio